Case Study: How OptiMine Helped American Signature Furniture Achieve Success During the Pandemic
10/18/2021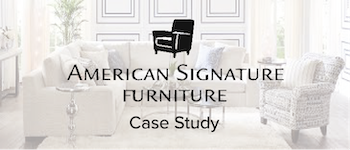 American Signature Furniture: An Overview
American Signature, Inc. is a privately owned furniture company based in Columbus, Ohio. It is the parent company of the retail brands American Signature Furniture and Value City Furniture, and the manufacturer brand American Signature.
The Challenge
Grow revenues efficiently during pandemic-driven lockdowns
Adapt media allocation rapidly and precisely during highly variable and unpredictable conditions
The Strategy
American Signature Furniture could no longer rely on historical data and measures to guide their marketing decisions during the pandemic, so OptiMine provided pandemic-period models to help the furniture retailer quickly adjust spend and media to match the current desires of their consumers (rather than making these decisions based off of their pre-pandemic/historical data).
This case study includes insights on:
How OptiMine's analytic agility drove success for American Signature Furniture amidst a pandemic
How OptiMine delivered proven lift via controlled market testing
How this furniture retailer achieved a 100% growth rate lift using OptiMine's media planning and guidance
… and so much more!
Download the full case study here.
---
About OptiMine
OptiMine helps leading retailers measure the incremental contributions of their digital and traditional marketing campaigns on any outcome (sales, traffic, new customer acquisition and more) across any conversion point (in-store, e-commerce, in-app, call center and more). OptiMine's privacy-forward approach means you'll never need to compromise with tech industry and state-by-state privacy changes and regulations.