Marketing/Media Mix Modeling FAQ
02/24/2022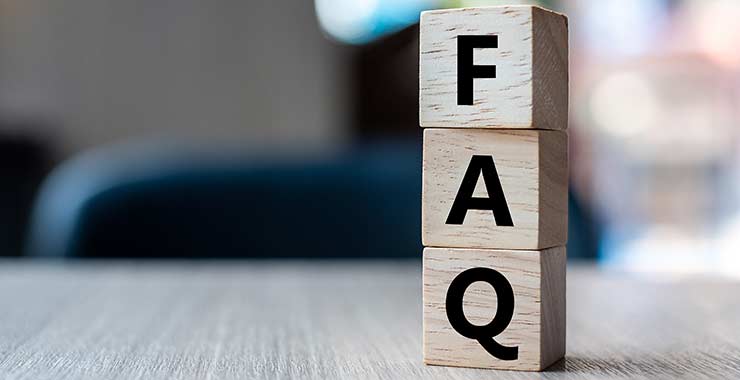 See below for answers to all of the most frequently asked questions about Marketing/Media Mix Modeling (MMM), courtesy of OptiMine.
What is Marketing Mix Modeling (MMM)?
Marketing Mix Modeling, also known as Media Mix Modeling— or "MMM" for short— is a statistical method for building predictive models using multi-variate regression. The models evaluate media impressions and spend, non-marketing factors such as economic conditions or other elements that move business performance more broadly, and converting activity over time to measure the contributions of each of these elements towards conversions (sales, traffic, customer acquisitions, engagement, branding impacts, etc.). These measures then allow the marketer to understand potential outcomes by evaluating different marketing investment levels or other scenarios.
When and Where is Marketing/Media Mix Modeling Used?
Marketing Mix Modeling is best used when a brand wants to understand and measure the incremental contributions of their marketing, and in particular, when the brand has a mix of digital and traditional marketing channels as well as online and offline conversion points. With a more complex media mix, MMM is an ideal fit and can handle this kind of marketing complexity, and most importantly can help the brand get more performance and efficiency from their marketing budget.
Can MMM be Used to Measure Digital Marketing?
Yes. Marketing Mix Modeling can be used to measure a mix of both digital and traditional media. And modern MMM solutions, like those from OptiMine, can measure digital campaigns in deep levels of detail.
Why is Marketing/Media Mix Modeling Important?
Marketing Mix Modeling (MMM) is an important part of any marketing plan, because it allows you to measure past performance (product: OptiMine Insight) and chart a path for future success (product: OptiMine Intent).
What is Marketing Optimization?
Simply put, Marketing Optimization is the method of optimizing the various parts of a marketing campaign or budget to get the most performance out of your spend.
How does Marketing Optimization work?
More specifically, Marketing Optimization is the process of improving the marketing efforts of an organization (by optimizing the various parts of marketing campaigns) in an attempt to maximize the desired business outcomes. The optimization process works by simultaneously evaluating every marketing effort against a desired outcome and automatically considers thousands or even millions of potential decisions about campaigns, investment levels, timing, channels etc. to determine the optimal mix of investments to drive the best overall performance.
Isn't Marketing Optimization just for Traditional Media?
No, Marketing Optimization is for both traditional and digital media. In fact, it works best with a combination of the two and best with a complex set of channels and budget considerations.
Isn't Marketing Optimization just for CPG Brands?
No. While CPG brands have been using these techniques for decades, modern technology and data science now makes these advanced approaches available to any brand seeking to improve its marketing performance, and at much lower costs that make these solutions more accessible than ever before.
What is Scenario Planning?
Strong MMM solutions provide scenario planning tools to allow the marketer to understand potential outcomes and run different scenarios to estimate the potential impacts on conversions. MMM models can also include cost and yield or saturation levels to guide the marketer to the optimal levels of investments by examining the cost-benefit of different marketing channel investment ratios.
What is Budget and Media Plan Optimization?
Some MMM solutions also provide budget and media plan optimization capabilities. These optimization tools examine different investment levels across the entire marketing budget to guide to the most optimal allocation to achieve a goal or outcome. For example, a brand may use budget optimization to help plan their annual marketing budget. They may run optimizations at different budget levels (example: what would happen if we increased our marketing budget by 10% overall?) to zero in on the most effect budget. These optimization tools are beneficial because they allow marketers to make better financial decisions, or make a case to their finance teams for specific investment approaches that will benefit the overall business.
How is OptiMine's Approach Different and Unique?
OptiMine's measurement approach is 100% privacy-safe and future-proof, as it is completely unaffected by the constant stream of new consumer privacy changes (such as Apple's iOS 14.5 or Google Topics) and state-by-state privacy regulations.
Also, OptiMine delivers high-speed solutions in a fraction of the time and delivers deep levels of detailed, actionable guidance to brands that need to make tactical short-term decisions in addition to longer term strategic budget allocations. Models are rebuilt on the fly, keeping you current with the market and ahead of your competition.
Finally, OptiMine does not rely on tracking, consumer/device identity data, or PII, which sets us apart from all other marketing measurement vendors in the industry (and, will protect you and your brand from any compliance risks).
Additionally, OptiMine has recently been named a Contender in The Forrester Wave™: Marketing Measurement & Optimization Solutions, Q1 2022. This puts OptiMine among the top 10 marketing measurement vendors in the industry—our highest scores directly indicating our platform's agility and future-proof nature.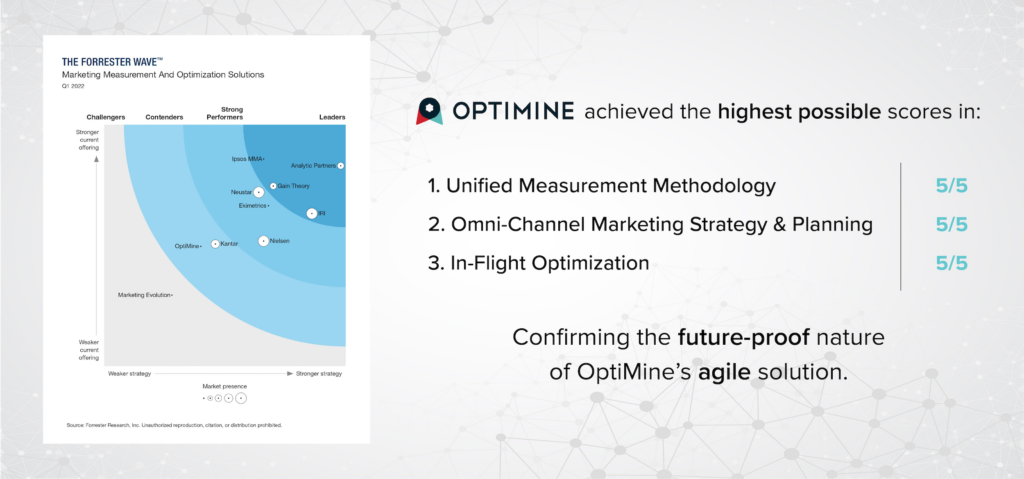 "References are happy with the tool's speed, flexibility, and ease of use. And they told us that OptiMine's fast data integration and data access is a selling point because advertisers need to maneuver data within their own environment."
– The Forrester Wave™
To read the full report, click here.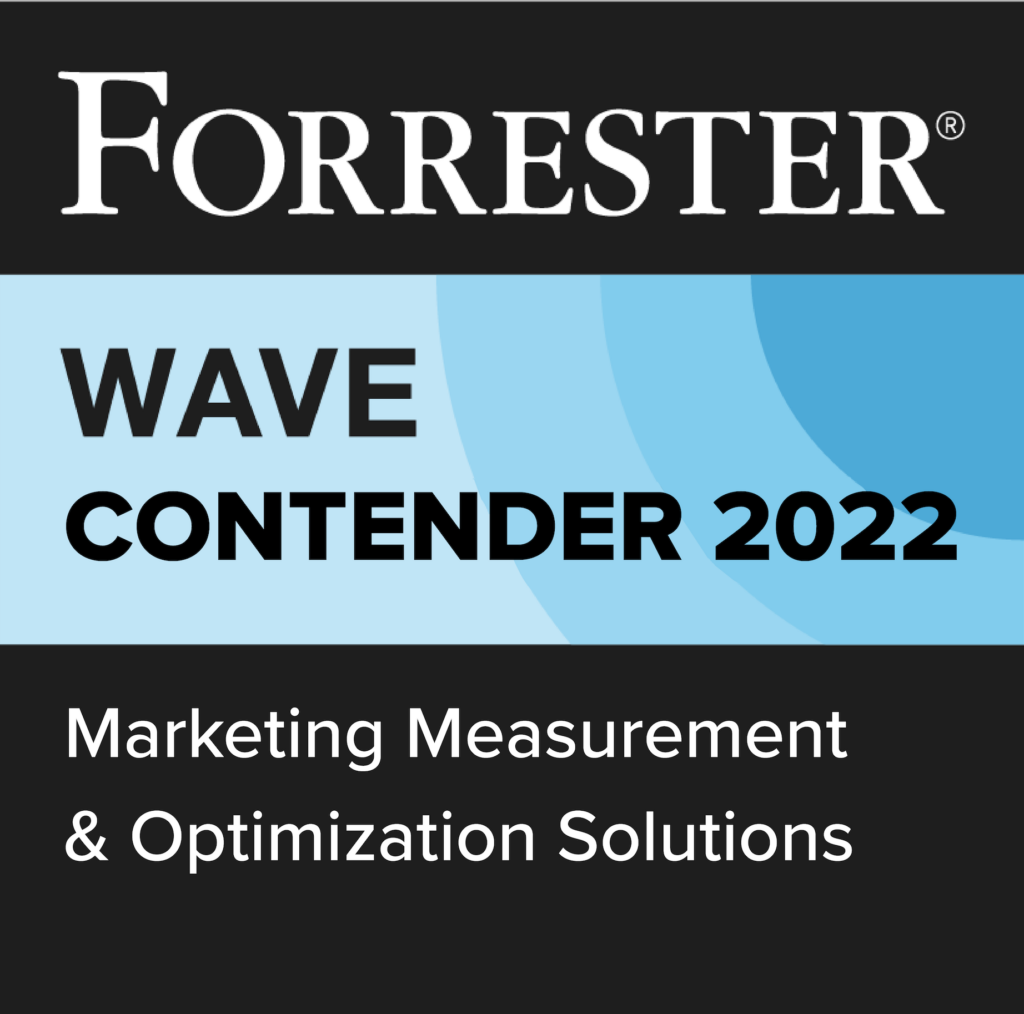 Interested in learning about how OptiMine's agile solution can help you and your brand? Contact us today!
---
Resources: