Guide to Unified Marketing Measurement
08/08/2022
To succeed in today's marketing world, it is crucial to have accurate marketing attribution. More specifically, marketers must MEASURE: (1) the cross-channel effects of media and (2) the detailed campaign activity and value of all digital and traditional channels. This pressure to prove the value and contribution of marketing investments has always driven this measurement demand. Easy enough—except when you begin to layer in data-loss from privacy changes, which has greatly limited solutions' accurate measurement of these data points. Unified measurement, in particular, has emerged as a more popular measurement strategy as of late. But what is unified measurement, and is it reliable? Read on to find out.
What is Unified Marketing Measurement?
Simply put, traditional unified measurement (also known as unified marketing measurement or unified analytics) brings together two of the most common approaches of marketing measurement: marketing mix modeling (MMM) and multi-touch attribution (MTA).

Traditional unified measurement blends statistical techniques that assign business value to each element of the marketing mix at both a strategic and tactical level, combining a variety of data models and insights to provide marketers with a "holistic" view of their marketing efforts. This *should* allow marketers to look into more granular data and comprehensively track their campaign success. But does it?
Does Traditional Unified Measurement Work in the Modern Marketing Landscape?
When unified measurement became a concept in the marketplace, it was to solve a problem whereby no single measurement approach could cover the entire sphere of digital and traditional media across both online and offline converting outcomes. Digital attribution solutions fail to measure traditional media and offline conversions while traditional marketing mix modeling fails to deliver detailed measures at campaign levels. The answer? Merge the two. The market was left with a definition of unified measurement that includes two primary components:
"Top Down" strategic marketing measurement and planning more commonly associated with marketing mix modeling
"Bottom UP" tactical marketing measurement at more detailed campaign levels— primarily in digital marketing channels— using multi-touch attribution
The marketing industry, including industry analysts such as Forrester Research, were overly prescriptive about the combination of marketing mix modeling and multi-touch attribution as the only way to accomplish "Unified Measurement", largely ignoring the fact that putting the two methods together produces conflicting answers and large gaps in measurement. Vendors have come up with ways to paper over such conflicts and gaps by "merging" the answers into a "unified measurement framework" but these issues still lurk under the surface.
How Data Disruptions Have Impacted Unified Measurement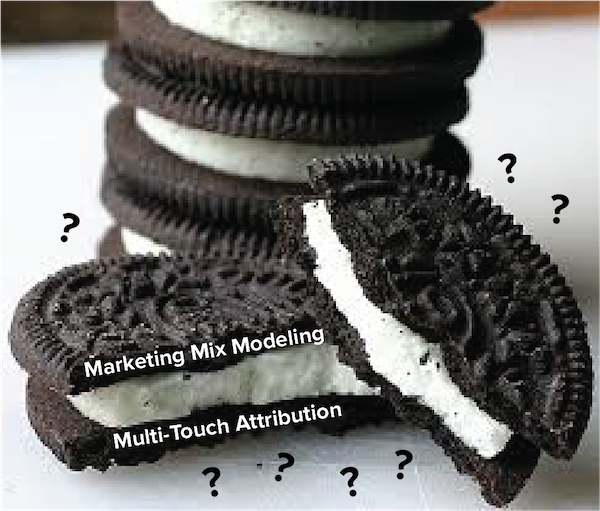 Fast forward to today— data disruption is hitting the marketing industry HARD:
Impending Cookie Death
Tracking restrictions – Apple's ITP and IDFA block consumer tracking on nearly 50% of the US mobile devices and any Safari-based internet use
Regulations such as CCPA and CPRA that foreshadow even more regulatory risks with consumer identity data AND widening gaps in data and identity matching
Poor identity matching rates that drain attribution accuracy and confidence
Tectonic consumer behavior shifts driven by the post-pandemic economy which curtail the use of non-relevant historical data in traditional marketing mix models
The Multi-Touch Attribution Part of Unified Measurement is Dead.
The data disruptions now place at least half of the traditional unified measurement layer into serious jeopardy as multi-touch attribution solutions no longer provide accurate measures nor represent a long-term future-proof option for brands. Multi-touch attribution ("MTA") is not an accurate, tactical guide especially for brands that have offline converting outcomes such as brick-and-mortar stores, sales agent channels, physical branches, call centers and other non-digital touchpoints. And, if we are being honest, MTA was never accurate anyway.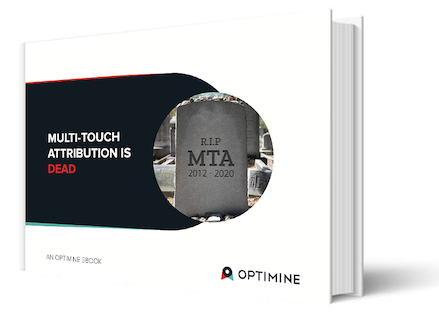 The Shortcomings of Traditional MMM
In addition to the data disruption impacting the MTA aspect of traditional unified measurement, there are some other shortcomings of unified measurement as we know it on the traditional MMM side as well. These shortcomings are as follows:
Expensive—eats up a significant percentage of marketing/analytics budget(s)
Slow—because traditional MMM uses a manual consulting exercise, building models or changing them over time takes a significant amount of time
Dated data—results are obtained months after the period being measured
Inflexible—many traditional MMM deployments are highly static because brands don't have the resources to evolve the models over time
Not actionable—teams often get very high-level recommendations instead of the tactical data needed to accurately execute needed changes or make enhancements to a campaign
Unified Measurement Redefined
With all of the current challenges impacting marketing measurement, it is time to update the definition of "unified measurement" altogether. Marketers require flexibility, speed, and future-proofing against data disruption… in essence: agility. The new unified measurement must be agile enough to meet the business at the speed of the market and must be reliable now and in the future when the consumer data sphere will be:
More limited
Less reliable
And more risky
This new definition moves away from the "how" and focuses on "what" the marketer requires for measurement to provide value to the enterprise. Unified measurement is now defined as:
Agile Strategic Planning:
Forward-looking strategic marketing budget planning
Highly-flexible what-if media spend allocation scenarios
Advanced optimizations across the entire marketing portfolio that account for all cross-channel effects of advertising (not just the channel silos)
Rapid-cycle playbooks to the marketing team and partners for the most impactful investment strategies
Controls for non-marketing factors to properly identify the incremental impacts of marketing investments
Agile Tactical & Actionable Measurement:
Detailed, tactical campaign-level measurement for BOTH digital and traditional media campaigns, and the cross-channel impacts of each effort
Rapid identification of performance lift across any KPI of importance (ROAS, ROMI, CPA, etc.) for any critical value (Revenue, Margin, Traffic, Acquisition, Loyalty, LTV, etc.)
Actionable data and decisioning across critical dimensions such as geography, product types & taxonomies, customer segments, device types, creative treatments, ad formats, etc.
Measurement of the total impact of a campaign across all online & offline outcomes
Future-proof tactical measurement that doesn't rely on consumer and cross-device tracking data
Agile Continuous Test & Learn Capability:
Rapid measurement refreshes to support new campaign tests, channels and spend changes
Ongoing persistent measurement across all channels to guide to the latest changes in market conditions and the performance shifts they are driving
Tools and interfaces to track changes made to enable continuous scoring of results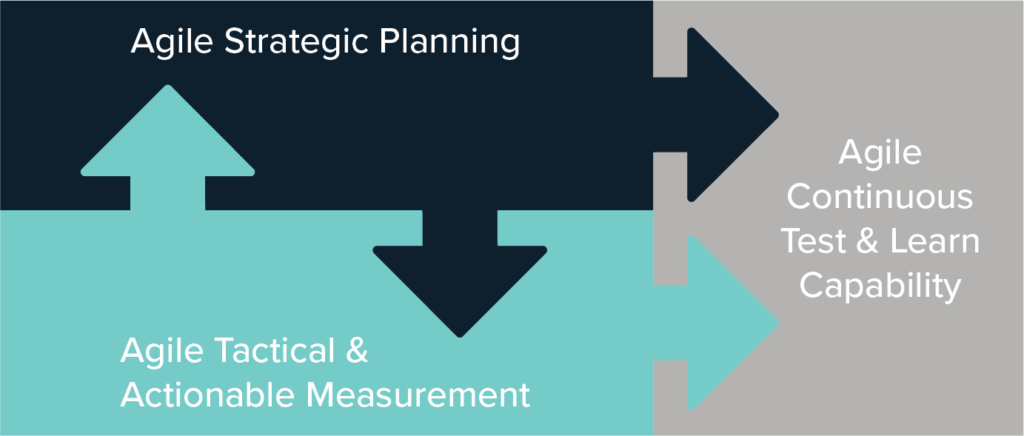 With the new definition of unified measurement, we move away from older, failing methodologies especially since tracking-based attribution will no longer be a future-proof option for more tactical marketing measurement. Instead, the new unified measurement moves its focus to what matters most: driving continuous marketing and business performance improvement with agile analytics.
The Benefits of Modern Unified Measurement
This new, modern approach to unified marketing measurement solves the shortcomings of both MTA and traditional MMM. The main benefits are:
1. Speed.

The new unified measurement is built to match the speed of today's ultra-competitive market and matches the pace of a brand's decisions.
2. Agility.

The new unified measurement is built for today's complex data environment. This "data first" approach allows brands to adapt quickly, evolve the question they pose to analytics, and adjust to the constantly changing data environment.
3. Future-Proof.

The new unified measurement is privacy-safe and future-proof, as it does not rely on MTA anymore. Therefore, it is completely unaffected by the constant stream of new consumer privacy changes and state-by-state privacy regulations. Plus, without the reliance on tracking, consumer/device identity data, or PII, you and your brand will be protected from any compliance risks that now come along with any form of tracking-based measurement.
Key Metrics for Accurate Unified Measurement
By moving to a modern approach to unified measurement, brands can now evaluate an expanded and more powerful set of KPIs, outcomes and metrics:
Full revenue impact across all channels
Complete views on new customer acquisition, including measurement of media impacts on LTV and longer-term customer value
Economic activity across key customer segments and audiences
Comprehensive mid-to-upper funnel metrics such as traffic, high-value engagement and earlier signs and signals of pre-purchase behaviors
Moving to Unified Measurement
When moving to unified measurement, there are some considerations marketers need to keep in mind. For example, how to select the best platform that will help their marketing team reach (and exceed) their particular goals, as well as how to implement their platform of choice.
Considerations
Additional considerations to keep in mind when moving to unified measurement:
The proven speed of the vendor solution
The level of detail provided in the solution
The capabilities the solution has to measure all channels & outcomes
Proof of accuracy and validation of the solution
Selecting a Platform
Reference the table below for the key criteria to evaluate when selecting a unified marketing measurement platform:
| | |
| --- | --- |
| Criteria | Important Notes & Considerations |
| Marketing Coverage | Does the solution cover all of the marketing channels for your brand (including traditional media such as TV, radio, print, OOH)? |
| Conversion Coverage | Does the solution cover all of the conversion channels for your brand (including in-app, in-store, call center, branch locations, sales agents, in addition to e-commerce)? |
| Controlling for Non-Marketing Factors | Does the modeling solution account and control for non-marketing factors (weather, seasonality, competition, economy) as well as your brand's own non-marketing impacts (promotions, discounts, PR, events, sponsorships)? |
| Avoiding Reliance on PII | Does the solution require PII? Can the solution provide detailed campaign-level measures without the use of PII? |
| Need for Speed | Does the solution require data integrations, use of 3rd party data onboarding, tagging digital assets, matching offline consumer data, or other data-related tasks that greatly slow down deployments and updates over time? |
| Flexibility First | How easy can the solution change to new KPIs or conversion outcomes? How fast and easy is it to add new channels and data? How long must the solution recalibrate models when data changes? How long does it take to build new models? How often are the predictive models updated? |
| Hidden Costs | Does the solution require additional expenses for data, data integration, web development, compliance costs, and IT costs? |
Don't Get Left Behind
In an era of privacy-driven marketing measurement disruption, don't get left behind. OptiMine's modern unified marketing measurement solution does not rely on PII, cookies, tracking pixels, or any other identity data, and will not be impacted by any of the privacy regulations or privacy related technology changes now nor in the future.
OptiMine's solution is 100% future-proof—and the time to future-proof your measurement is NOW. OptiMine's deeply experienced team can guide you and your organization through the change, solution adoption and analytic support to achieve greater success.
OptiMine is today's agile and accurate unified marketing measurement solution. Contact us and let's start implementing unified measurement into your marketing strategy together!